Publica tus proyectos dentro de la comunidad de arquitectos y diseñadores.
Presente su cartera
Muestr sus proyectos en la guia de proyectos populares de Archello
Cree una presentación inspiradora con fotos, dibujos y videos del proyecto.
Aparezca en la página de inicio, redes sociales y boletines de Archello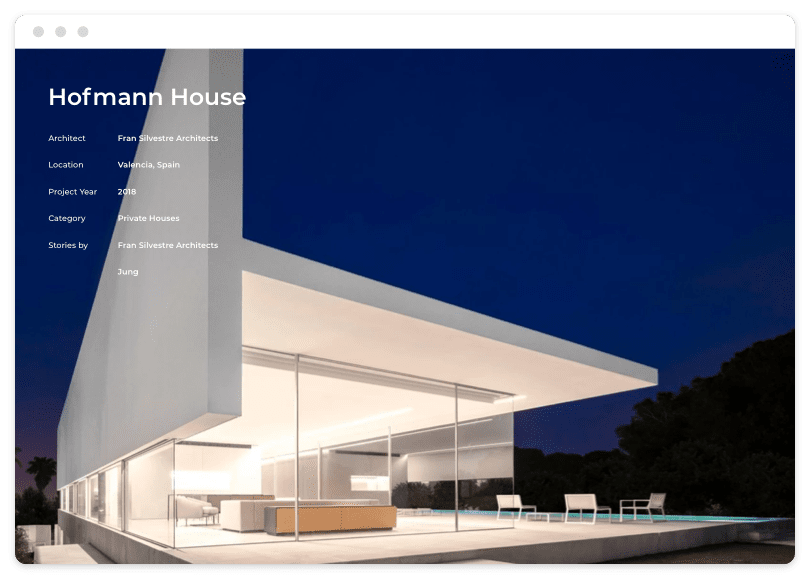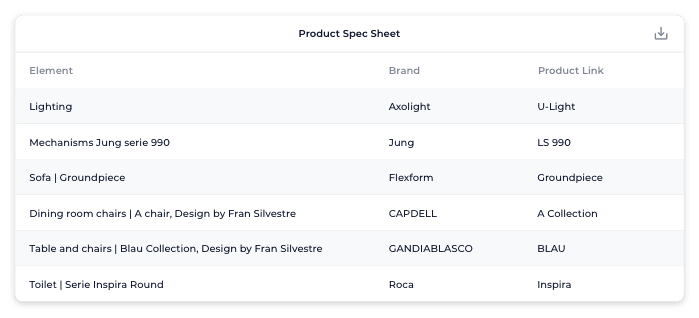 " Archello.com es la comunidad de arquitectura de más rápido crecimiento, más de 36.000 empresas utilizan Archello para compartir su trabajo. "
Compartir Conocimiento de Especificaciones
Comparta conocimientos específicos con otros y aprenda de las elecciones que hacen otros arquitectos
Los proyectos con fichas de especificacione tendrán una mayor visibilidad y es más probable que se publiquen en la página de inicio de Archello y en los canales de las redes sociales.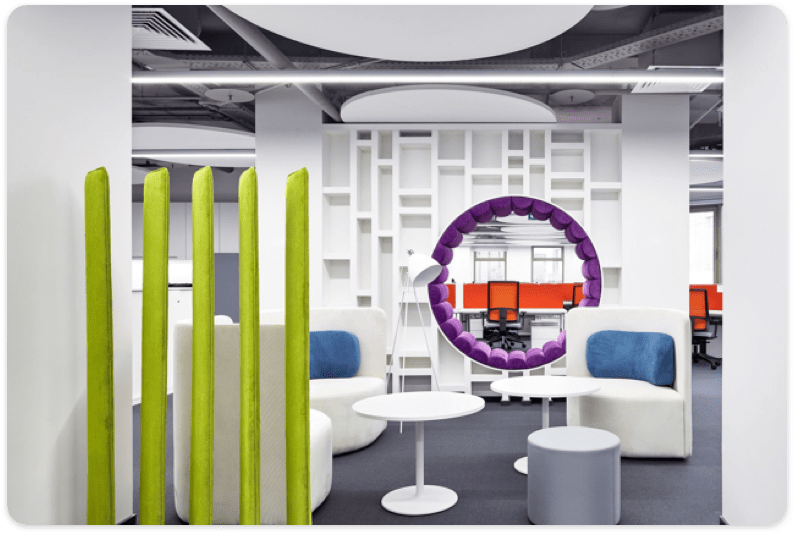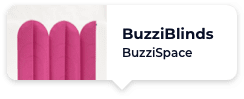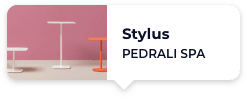 Port House by Zaha Hadid Architects
"Los proyectos con fichas técnicas de productos llegarán a un público más amplio y tendrán más posibilidades de aparecer en todos nuestros canales"
Construya una Comunidad
Invite a los miembros del equipo a la página de su empresa.
Muestre con quién trabajó: conecte las marcas involucradas a sus proyectos
Crezca seguidores, mantenga actualizada la comunidad de arquitectura publicando su último trabajo
Descubra las percepciones e interacciones de marca en tiempo real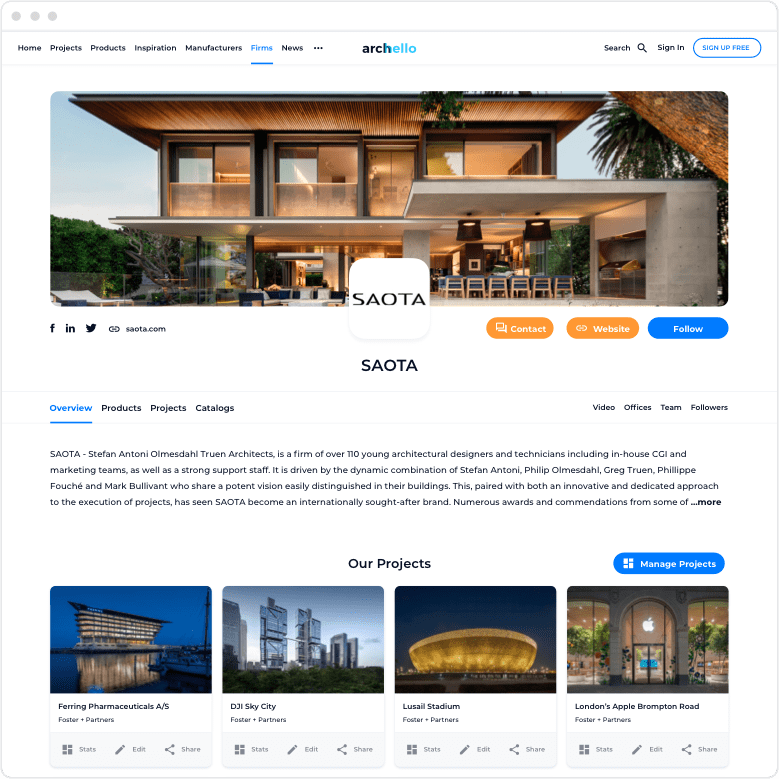 "Algunas de nuestras empresas tienen más de 10.000 seguidores en el sector y reciben una media de 10 nuevos seguidores al día"
Encuentre productos para su próximo proyecto
Vea qué productos utilizan los arquitectos en los proyectos. Descubra miles de hojas de especificaciones de productos conectadas a proyectos
Use Archello's Product Selector to find the best products for your next project and connect directly with the manufacturer
Guardar Productos en su colección para uso futuro
Siga a los fabricantes para mantenerse informado sobre los nuevos lanzamientos de productos.
Descargue folletos de productos, archivos BIM, encuentre listas de referencias de otros arquitectos que trabajaron con el fabricante.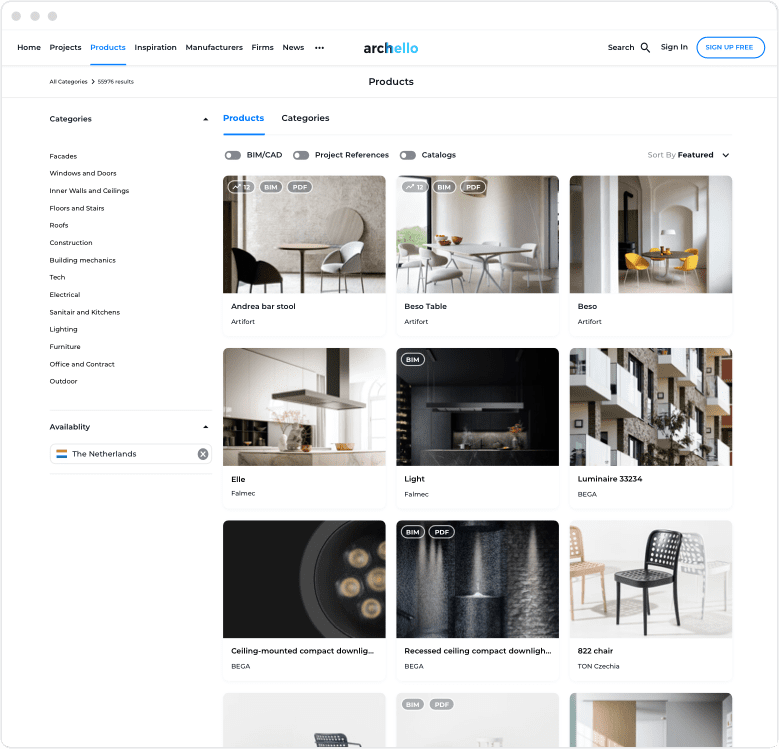 "Archello está construido desde cero para conectar a arquitectos con fabricantes."
Con la confianza de las firmas líderes de la industria en Arquitectura y Diseño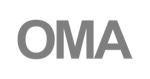 "Utilice Archello para mostrar su portafolio a la comunidad mundial de arquitectura y diseño"
Archello para Arquitectos
Publique sus proyectos y presente su trabajo a la comunidad global de arquitectura y diseño.
Gratis
Publique proyectos ilimitados
Firm portfolio page
Construya una comunidad de seguidores
Conecte a los miembros de su equipo
Agregar contenido multilingüe
Percepciones de Análisis
Curate your own collections
Siga sus marcas favoritas
Encuentre productos para sus próximos proyectos
Descargar Folletos de Productos y Archivos Bim
Conéctese directamente con los fabricantes
Posibilidad de promocionarse en los canales de redes sociales, la página de inicio y el boletín de noticias de Archello
Encuentre mas
Acerca de Archello

Archello es el punto de encuentro dentro de la industria creativa y la fabricación

Lee más

Establezca relaciones y sea especificado.

Archello para Fabricantes

Priorizamos la participación de los fabricantes en el mundo de la arquitectura.

Lee más