Re-verse penthouse is the two-level penthouse portrayed for a young couple with children who consciously choose to move into an abnormally distributed, almost upside-down dwelling.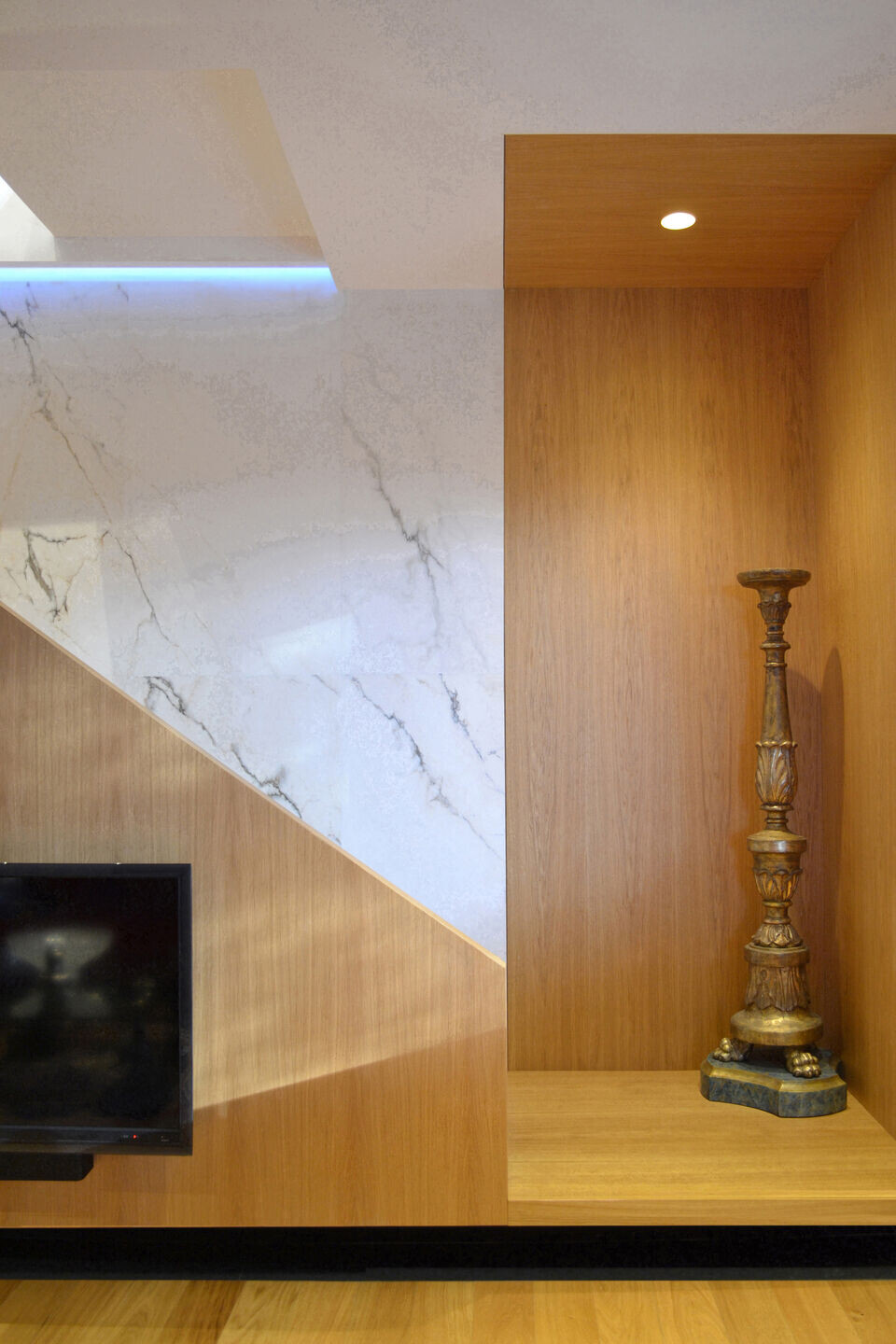 The elevator lands on the 4th floor where the living room, dining, bedrooms and bathrooms are positioned, but it is on the 5th floor that the large and bright kitchen island is located instead, with an adjoining dining area with a fireplace and a stunning terrace that wraps around the entire dwelling.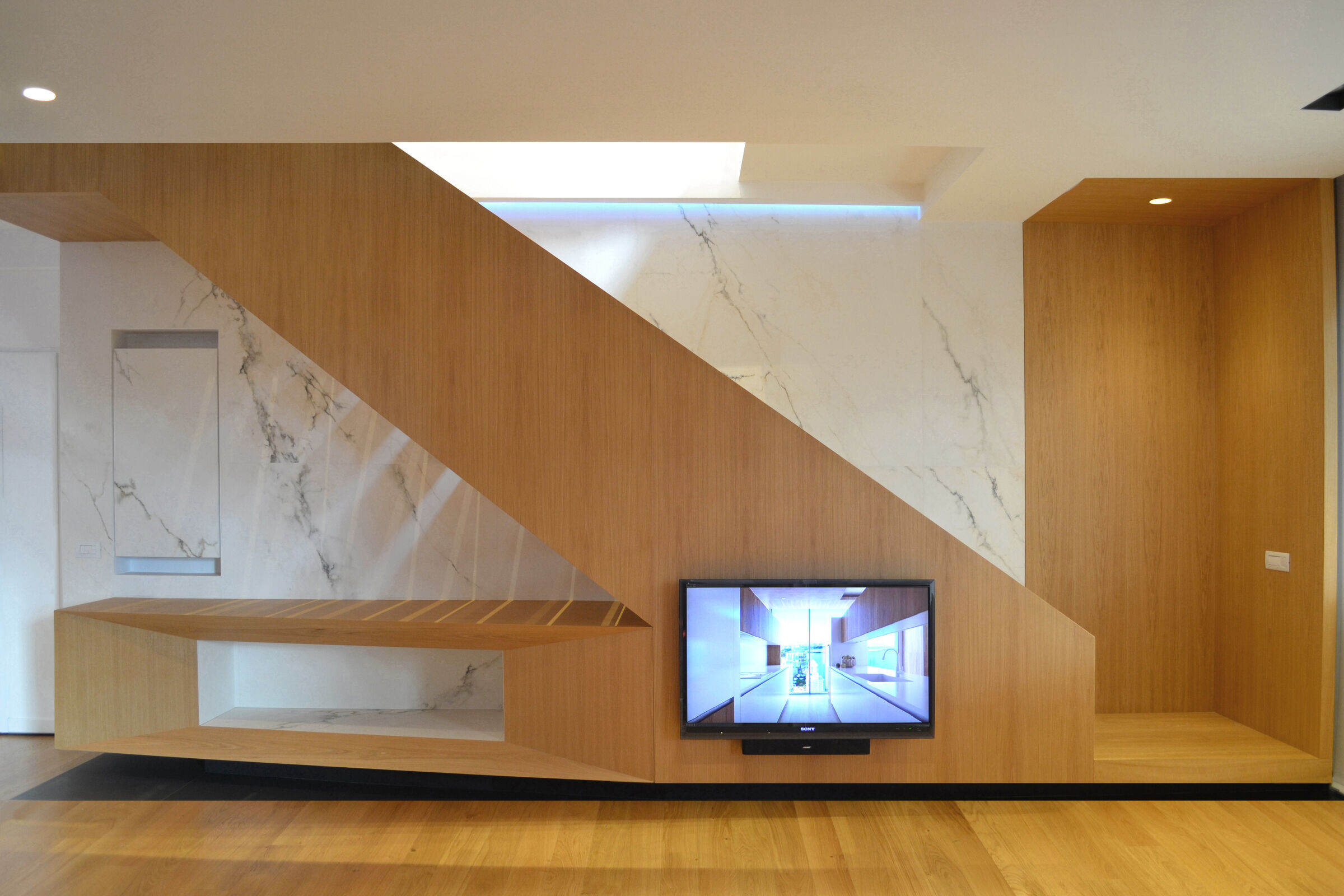 This will surely become the place where mom's passion (baking and cooking in general) and the children's play and study activities, will find maximum outlet.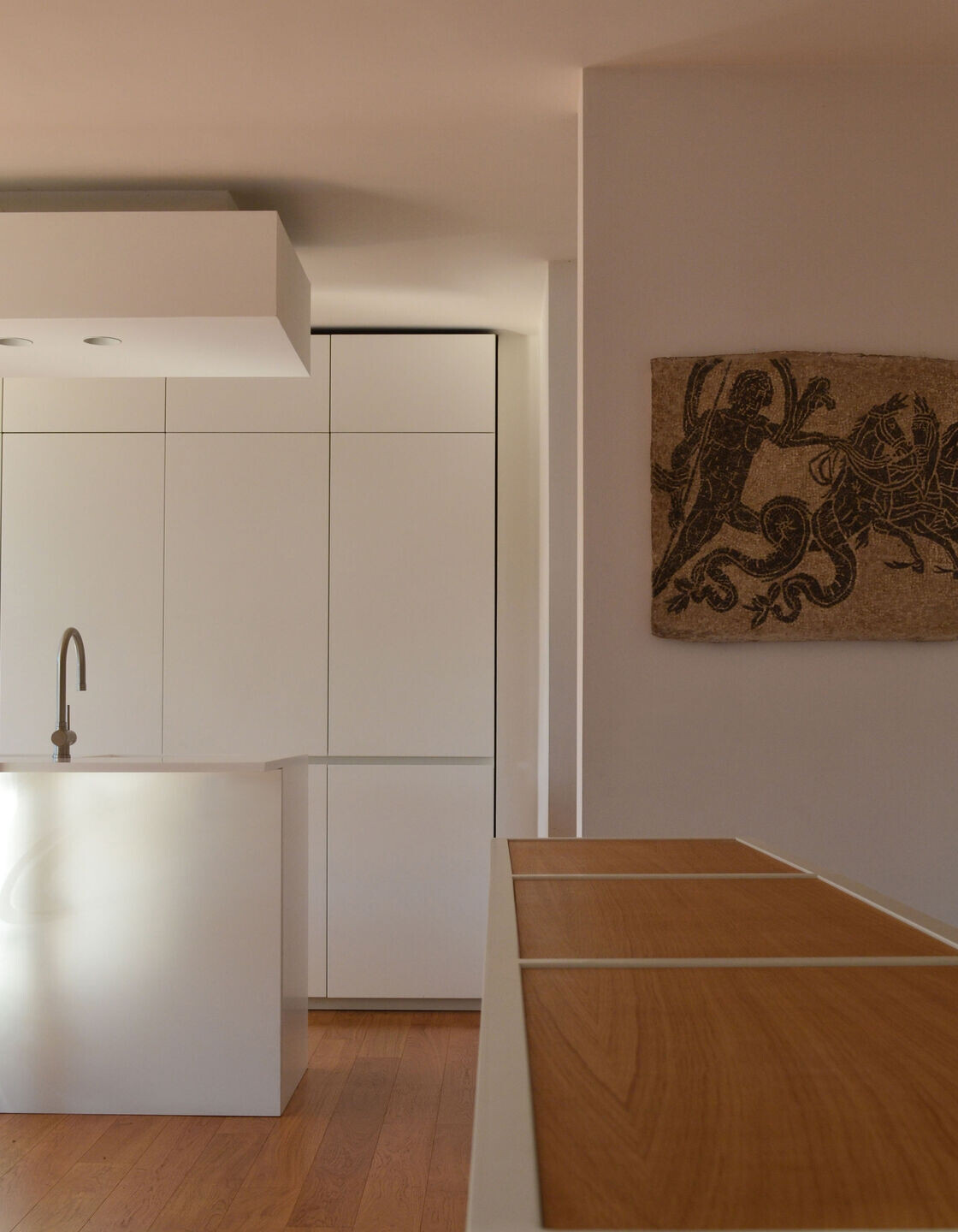 Taking note of this firm will we immediately focused on the work of defining the staircase, surely the barycentric and most challenging episode of all the duplexes, both for technical difficulties related to structural aspects and dimensional data (height difference to be overcome, available hole, etc.) and for the architectural values that this design element takes on in the whole narrative of the dwelling, moreover the only point of the house where we have a way to read the double height available.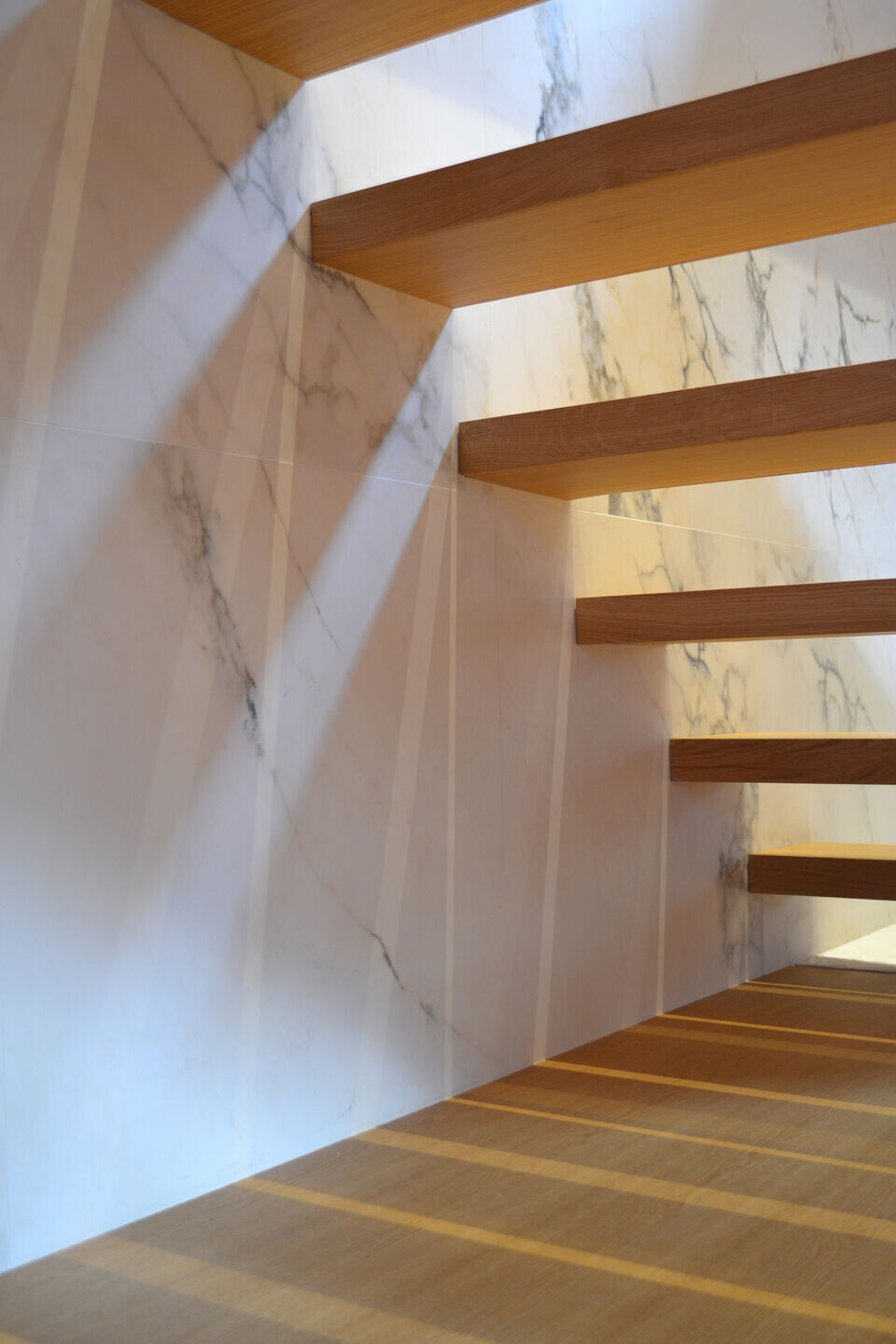 Even in this case, however, in total contrast to the fashions of the period that see the staircase often portrayed as a sequence of cantilevered treads, devoid of protection, a rectilinear staircase protected by a real guardrail was requested, capable of guaranteeing the proper safety for the transit of even children and the elderly.
The request, produced a clear and concise design solution: a cross sign that unmistakably marks the main wall of the living area.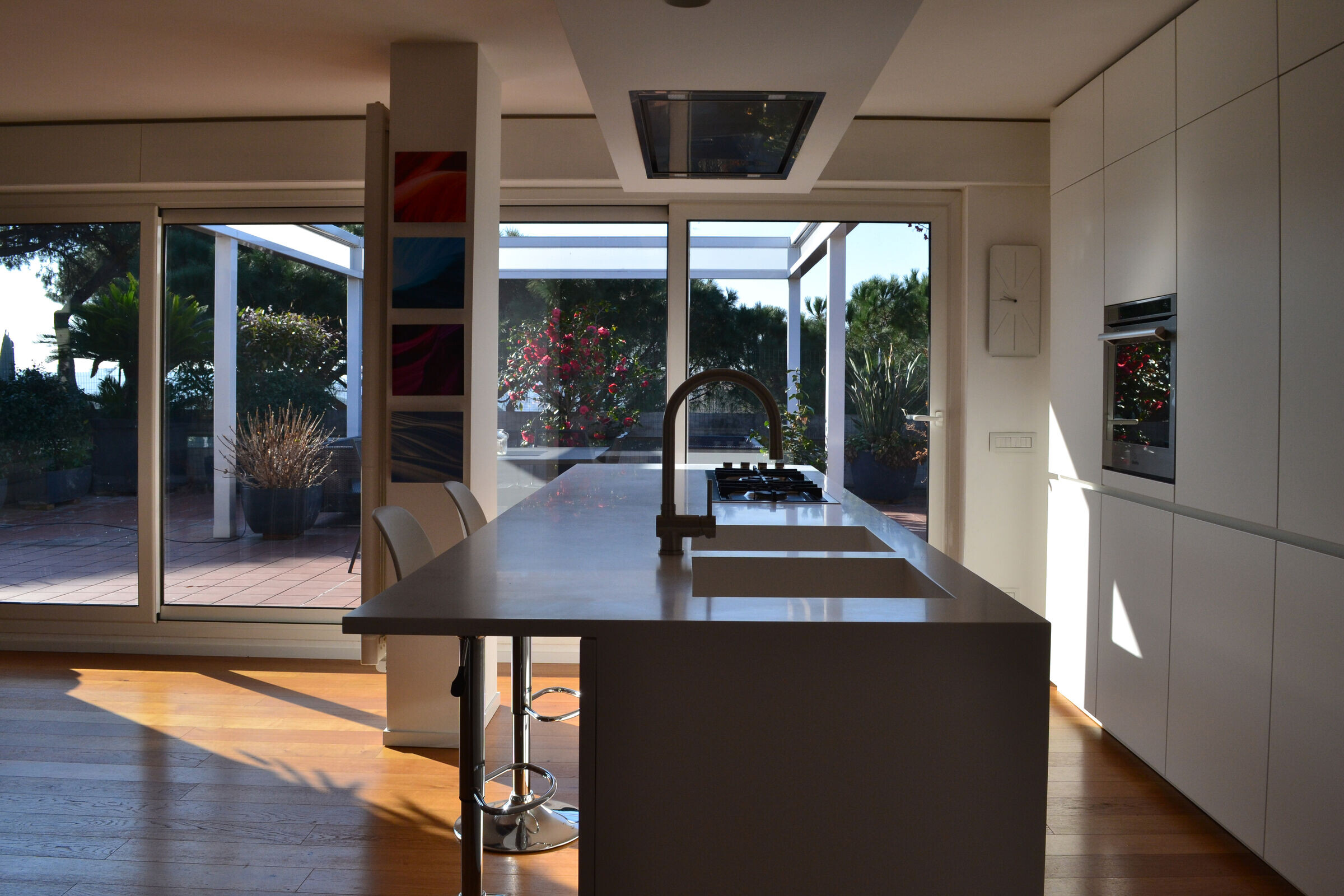 In fact, a simple oak parapet pierces the room, connecting on one side the landing where the staircase itself is boarded with the landing on the upper floor where it, folding back on itself, becomes a service cabinet.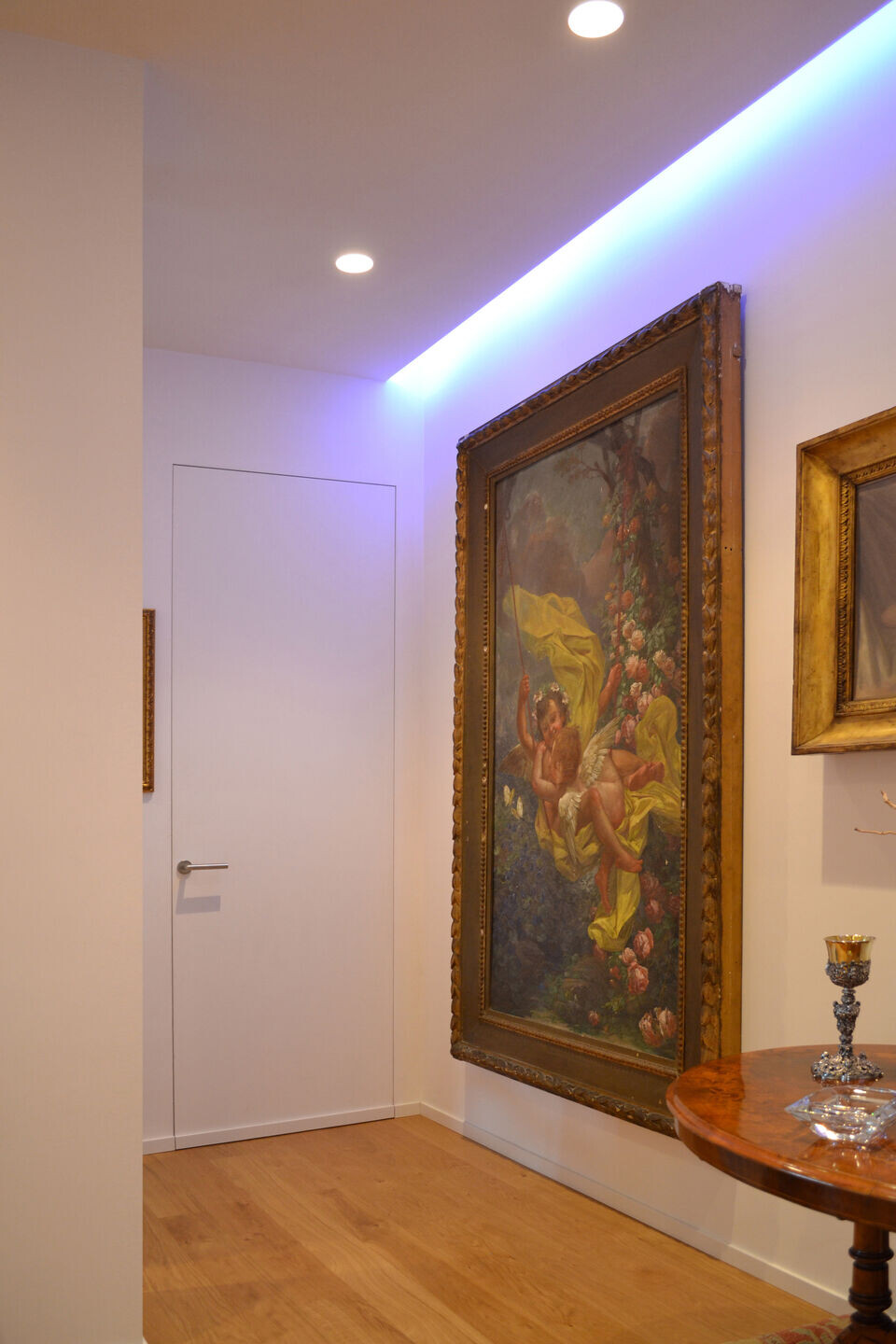 For the rest of the dwelling, a whole series of concealed elements, typical of a very minimal design (flush doors, built-in bodies, white-colored kitchen island, three-dimensional patterned ceramic tiles), characterize the setting, along with warm oak parquet flooring.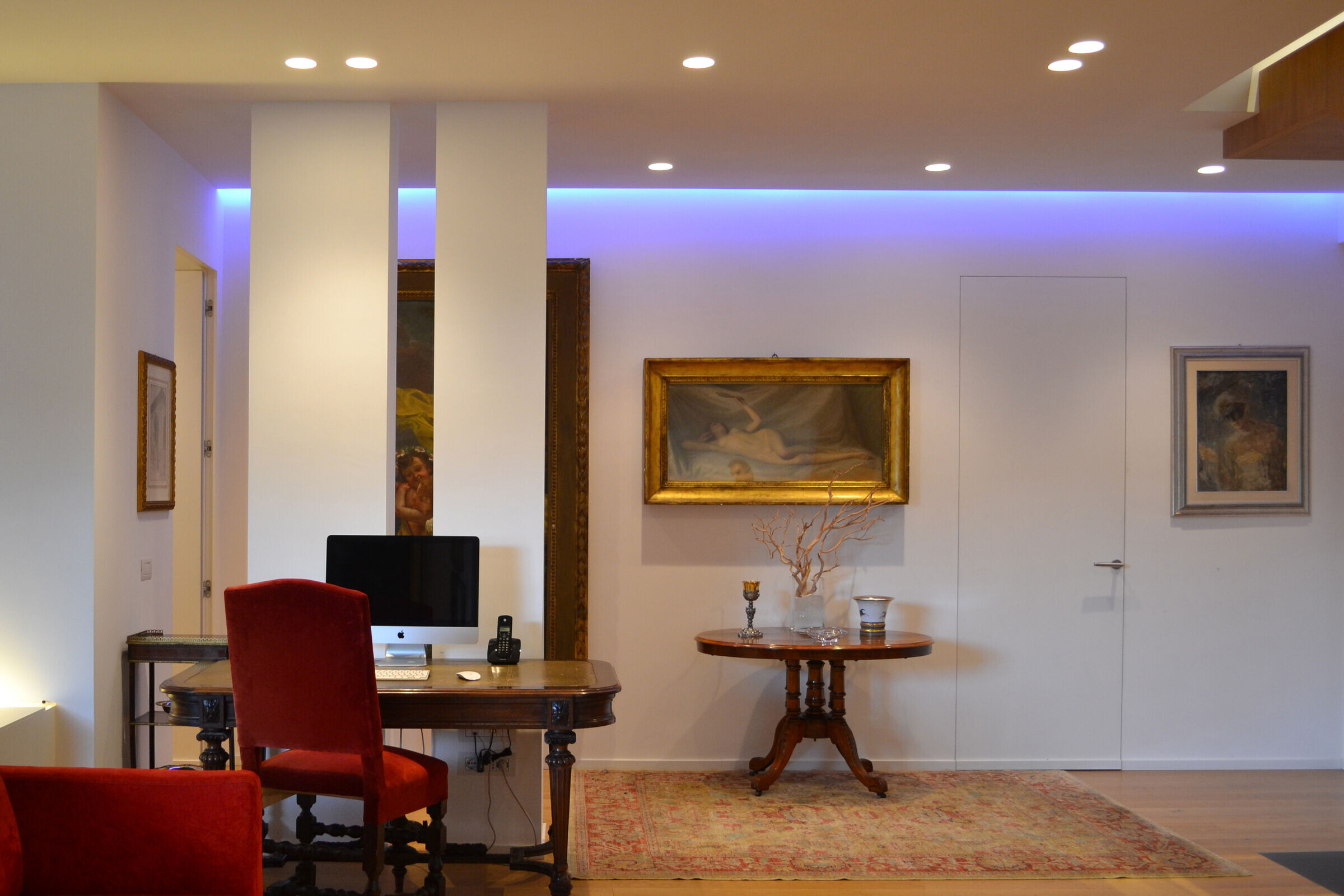 In particular, the master suite draws an articulated spatiality that portrays first the bed area, then, behind it, the comfortable wardrobe enriched by a striking shower compartment made of wooden slats with adjacent washbasin, and finally the sanitary area.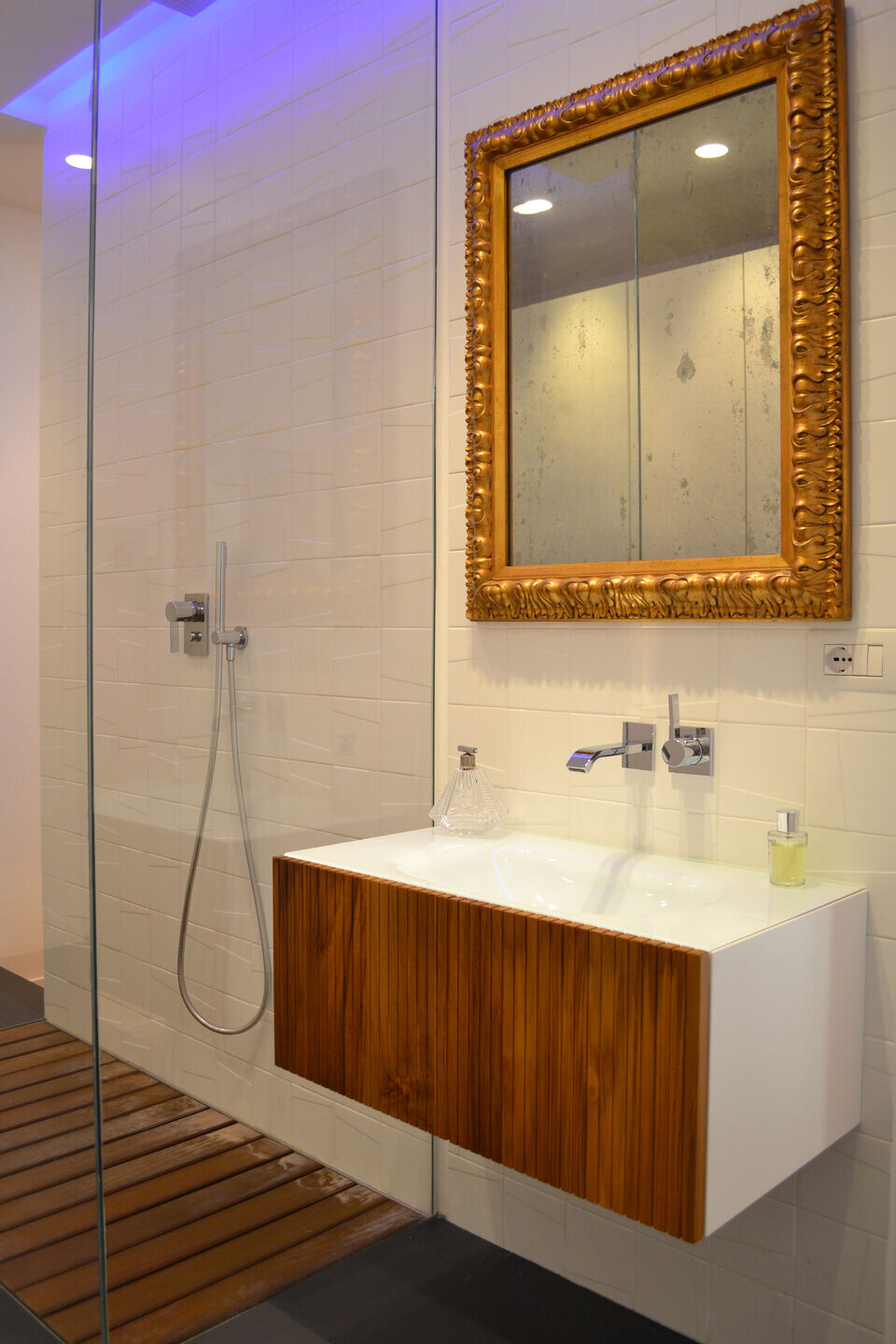 Team:
Architects: Filippo Bombace, Giorgio Bombace
Photographer: Studio Bombace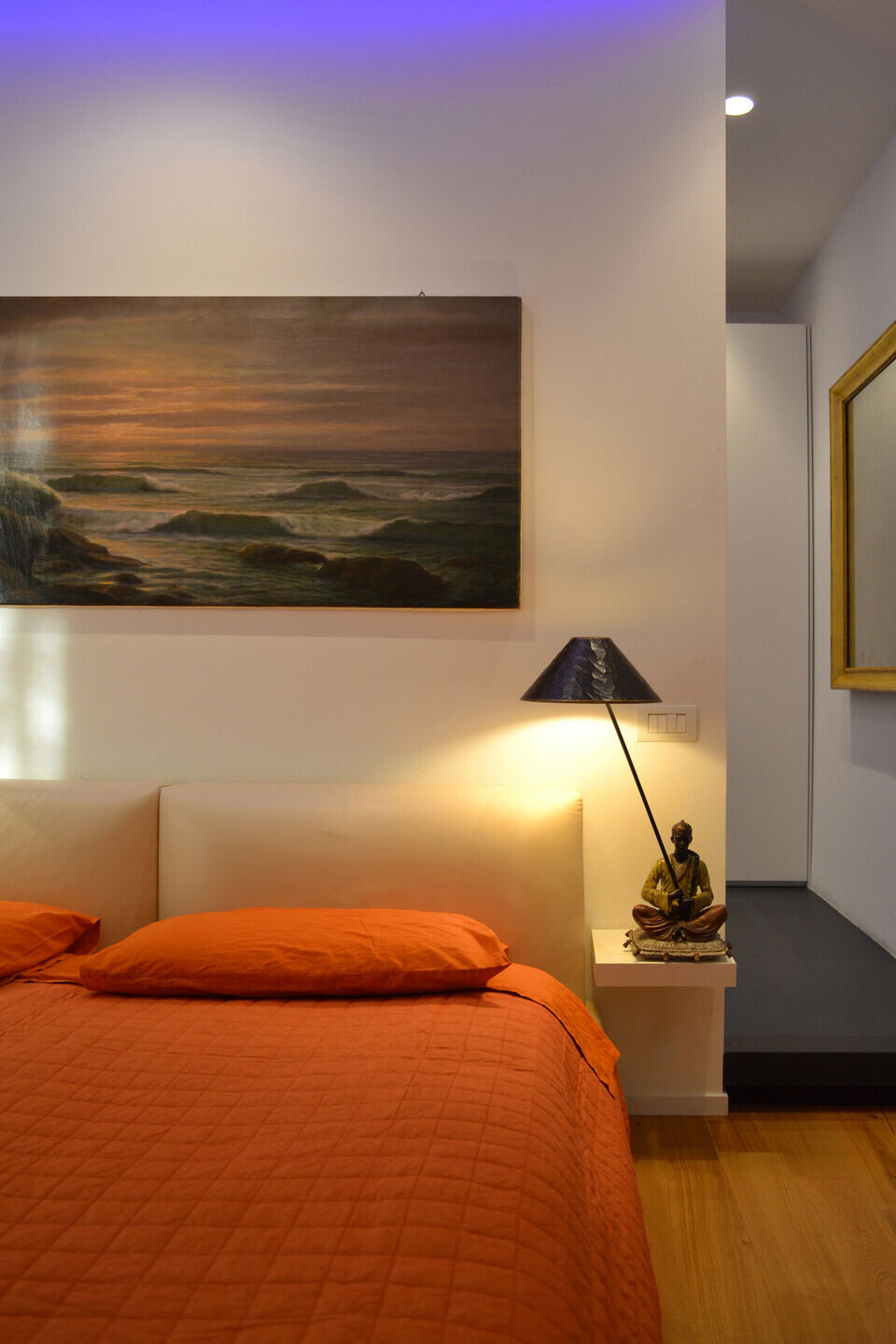 Materials used:

General floor
Listone Giordano by Margaritelli plank parquet flooring, country oak essence, naturplus2 finish, lengths 1200-2100 mm, width 140 mm, laid ship's deck
Kitchen
Kitchen furniture provided by IKONOS®, in matte white lacquer with corian top, in-line cooktop and oven by Scholtés, hood by Falmec inserted within a volume of: handcrafted plasterboard construction, refrigerator by Liebherr, dishwasher by Bosch.
Crystal kitchen table and lacquered supporting structure by MDF.
Bliss kitchen chairs by Pierantonio Bonacina, in black leather and polished stainless steel
Soggiorno/pranzo
Sofa and living room armchair: Globe by Moroso
Staircase area
Ariostea porcelain stoneware floor tiles series 'Ultra' Iridium black color soft finish - thickness mm 6
wall tile Ariostea series 'Ultra' Paonazzetto/s soft finish - thickness mm 6 dim. cm 75 x 150
Bathroom 1
shower + washbasin area
Ariostea porcelain stoneware flooring series 'Ultra' Iridium black color soft finish - thickness mm 6 and 10, various sizes
wall tiles Ceramica Mosa series 'Mosa murals' color 36010 white matte dim. cm 15 x 15
Moab80 washbasin door collection, white glass top with integrated washbasin dimensions cm 80 x cm 45 x h cm 35
Rare shower tray mod. Steel IN iroko slats dim. cm 1644 x 750 mm
Master suite closet in open-pore white lacquer by Poliform, model Madison
Dornbracht IMO series single-lever concealed basin mixer with separate rosettes, polished chrome finish (170 mm projection)
Dornbracht IMO series recessed right-hand mixer body, with hand shower unit with flexible hose with separate Dornbracht IMO series rosettes, polished chrome finish
Dornbracht IMO series ceiling-mounted rain shower head, Ø 300 mm, polished chrome finish
Sanitary area + washbasin
Ariostea porcelain stoneware flooring series 'Ultra' Iridium black color soft finish - thickness mm 6 and 10, various sizes
wall tiles Ceramica Mosa series 'Mosa murals' color 36010 white matte dim. cm 30 x 15 and cm 15 x 15
wall-hung washbasin Ceramica Flaminia series Pass 62, matt latte ceramic
wall-hung bidet ceramic Ceramica Flaminia Spin series, ceramic matt milk
wall-hung ceramic toilet Ceramica Flaminia Spin series, ceramic matt milk
Geberit built-in cistern including bolero plate in polished chrome finish
Dornbracht IMO series single lever basin mixer, polished chrome finish
Dornbracht IMO series single lever bidet mixer, polished chrome finish
Bathroom 2
Ariostea porcelain stoneware flooring series 'Ultra' Iridium black color soft finish - thickness mm 6 and 10, various sizes
wall tiles Ceramica Mosa series 'Mosa murals' color 36010 white matte dim. cm 30 x 15 and cm 15 x 15
wall-hung washbasin Ceramica Flaminia series Pass 62, matt latte ceramic
wall-hung bidet ceramic Ceramica Flaminia Spin series, ceramic matt milk
wall-hung ceramic toilet Ceramica Flaminia Spin series, ceramic matt milk
Geberit built-in cistern including bolero plate in polished chrome finish
Square series container mirror and Toast series lamps by Boffi
Kaldewei enameled steel tub pure series dim. cm 160 x 70
Dornbracht IMO series single lever basin mixer, polished chrome finish
Dornbracht IMO series single lever bidet mixer, polished chrome finish
Dornbracht IMO series built-in single lever mixer with diverter, polished chrome finish
Dornbracht IMO series concealed single-lever mixer, with hand shower unit with flexible hose and IMO sliding rail, polished chrome finish
Dornbracht IMO series wall-mounted bathtub spout
Bathroom 3
Ariostea porcelain stoneware flooring series 'Ultra' Iridium black color soft finish - thickness mm 6 and 10, various sizes
wall tiles Ceramica Mosa series 'Mosa murals' color 36010 white matte dim. cm 30 x 15 and cm 15 x 15
wall-hung washbasin Ceramica Flaminia series Pass 62, matt latte ceramic
wall-hung bidet ceramic Ceramica Flaminia Spin series, ceramic matt milk
wall-hung ceramic toilet Ceramica Flaminia Spin series, ceramic matt milk
Geberit built-in cistern including bolero plate in polished chrome finish
Catalano shower tray dim. cm 120 x 70
Dornbracht single lever basin mixer IMO series, polished chrome finish
Dornbracht single lever bidet mixer IMO series, polished chrome finish
Dornbracht recessed single-lever shower mixer with separate escutcheons and hand shower unit with flexible hose and sliding rail IMO series, polished chrome finish
Bathroom 4
Ariostea porcelain stoneware flooring series 'Ultra' Iridium black color soft finish - thickness mm 6 and 10, various sizes
wall tiles Ceramica Mosa series 'Mosa murals' color 36010 white matte dim cm 15 x 15
free-standing washbasin Ceramica Flaminia Monoroll series, diameter 44 cm , milk matte ceramic
wall-hung bidet Ceramica Flaminia App series, matt milk ceramic
wall-hung toilet bowl Ceramica Flaminia App series, matt latte ceramic
Geberit concealed cistern including bolero plate in polished chrome finish
Dornbracht single lever basin mixer IMO series, polished chrome finish
Dornbracht bidet single lever mixer IMO series, polished chrome finish
Electrical system components:
Light air model by biticino
Interior door:
hinged door flush with the wall L'Invisibile - sizes cm 70/80 x 240, magnetic lock
Lighting:
EASY KAP FLOS recessed ceiling lightcolor white and matte gold
LIGHT CUT MINI FLOS: architecturally integrated structural system for installation of direct or indirect lighting fixtures
COMPASS BOX RECESSED LARGE 1L: e 2L FLOS, color black
KAP SURFACE CEILING FLOS: recessed ceiling light, white color
COMPASS BOX LARGE FLOS 1L white color